Advertorial
Takalani Netshitenzhe
In March 2019, Vodacom unveiled an education ecosystem to support government's Vision 2030 comprehensive approach to education.
The ecosystem recognises that the success of the education system depends on a smooth interface and implementation of various pillars, underpinned by partnership of various players.

Some research studies paint a despondent picture of our education system.

For instance, authors of an IMF working paper which received wide media coverage in March 2019 indicated that despite relatively high levels of public spending on education – over six percent of our GDP, the country
continues to suffer from weak educational quality.

The paper concludes that to improve the situation, what is required is to package interventions together that would include, inter alia, improving teacher training and accountability and, school management.
In his 2019 State of the Nation address, President Cyril Ramaphosa said government will make Early Childhood Development (ECD) compulsory for all children before they enter Grade 1, as this is essential in equipping children to succeed in education, in social skills and in life.
It is our firm belief at Vodacom that a renewed focus on ECDs will strengthen our basic education system and help our government produce well-rounded professionals and this way overcome poverty, unemployment
and inequality.
At Vodacom we hold the firm view that the country remains a promising investment destination with a bright future.
In our considered view, if our government is going to make any significant advances in improving the quality of education, the government in partnership with leading corporates such as Vodacom need to find innovative ways to improve the quality of basic education by building a solid foundation in education, particularly in the early years.

In this respect, Vodacom, as a long standing partner of government and as part of our 25 year old existence, has pioneered a multifaceted education ecosystem model that looks at the interdependencies and interrelationships of ECDs, high schools and incorporates teacher training, parents and local communities to significantly transform our education system.
The six pillars of this multifaceted education ecosystem include:
A school of excellence model which supports 12 schools across the country selected from the 3000 schools that Vodacom has supported with Information Communication Technologies (ICT) since 2008.

Each school of excellence is closer to an ECD Centre, a Teacher Centre and a Vodacom ICT youth Academy.
Since December 2018, after making a R500m pledge over the next 5 years at the Global Citizen festival, to support digital literacy and the eradication of pit latrines, the Vodacom Foundation has spent over R33 million on infrastructure development in the ECD Centres and schools of excellence.

The pillars below underpin the schools of excellence model:
Pillar 1 – Early Childhood Development (ECD) Centres: Vodacom Foundation has committed to upgrading and renovating 15 ECD centres. To date, six ECD centres have been upgraded and renovated and received an ICT trolley solution and a mobile library. We have also decommissioned pit latrines in these ECD Centres.

Pillar 2 – Infrastructure and ICT: We have provided each of our 12 schools of excellence with a computer centre and security. We have also decommissioned pit latrines in these schools.

Pillar 3 – Teachers and school leadership: We collaborate with partners to train teachers on the integration of ICT in the classroom. In the 2018/2019 year, we spent over R12.7 million in providing unlimited connectivity in 92 teacher centres and provided more than 92 centre managers with digital skills training.

Pillar 4 – Communities: The above-mentioned teacher centres also serve as technology hubs where communities can access the internet. In South Africa, at these centres, more than 450 female farmers have received ICT training.

Pillar 5 – Partnerships: Annually, the Vodacom Foundation invests R5 million in 12 Not for Profit Organisations (NPOs) that have improved the lives of more than 73 900 people through this support in the past 20 years.

Pillar 6 – Learning Materials: Learning materials play a key role in providing effective support to teachers and learners. Vodacom Foundation has partnered with DBE to provide free unlimited internet access to quality digital Curriculum and Assessment Policy Statements (CAPS) aligned content through e-School which is a zero-rated platform for Vodacom subscribers.
This means Vodacom absorbs the costs of the service and does not
generate revenues from the e-school service run in partnership with DBE.

Crucially and as part of our Digital Literacy training for women initiative, we provided basic computer training to more than 1 600 survivors of gender based violence in government safe shelters nationally.
We also trained just over 800 women farmers on using social media (Facebook, Twitter, and Instagram etc.) to enable them to reach out to the outside world, and promote their farm produces.

Following this, these female farmers are then able to participate in the second phase of the programme which will connect small scale farmers across the agricultural value chain to enterprises and potential suppliers looking to source agricultural goods, such as crops and livestock, by registering on Vodacom's Connected Farmer app.

Our approach is aligned to the foreword of the South African National Curriculum Framework for children from birth to four years old, adopted in February 2015 which said "Delays in cognitive and overall development before schooling can often have long-lasting and costly consequences for
children, families and society.

"The most effective and cost-efficient time to intervene is before birth
and the early years of life. Investment in Early Childhood Development should be a key priority."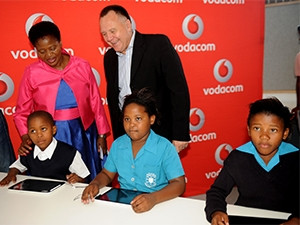 We believe in strong public-private partnerships and our partnership with the DBE is testimony of our commitment to making a contribution to improving the quality of education guided by our technological innovations and government policies.

We acknowledge that we exist in societies with high levels of inequality and abject poverty and therefore it is incumbent upon us to collaborate with the public sector and non-government organisations and come up with innovative solutions to assist government to deal with some of the socio-economic problems plaguing our society in this milieu.

Given where South Africa finds itself right now, there is a pressing need to forge increasingly meaningful partnerships to deepen and accelerate the impact of our collective programmes and help to move South Africa forward.